Sleeping in a winery is a great experience. You discover yourself opening a window and enjoying a landscape of vineyards on the horizon… a good awakening for the senses! What better way to spend a holiday than among rolling vineyards, vaulted wine cellars and vinotherapy spas? We've drunk our way from Tuscany and Bergerac to Rioja and Porto and found the European hotels that will satisfy even the most well-versed oenophiles.
Best wine luxury hotels in Spain
Hotel Marques de Riscal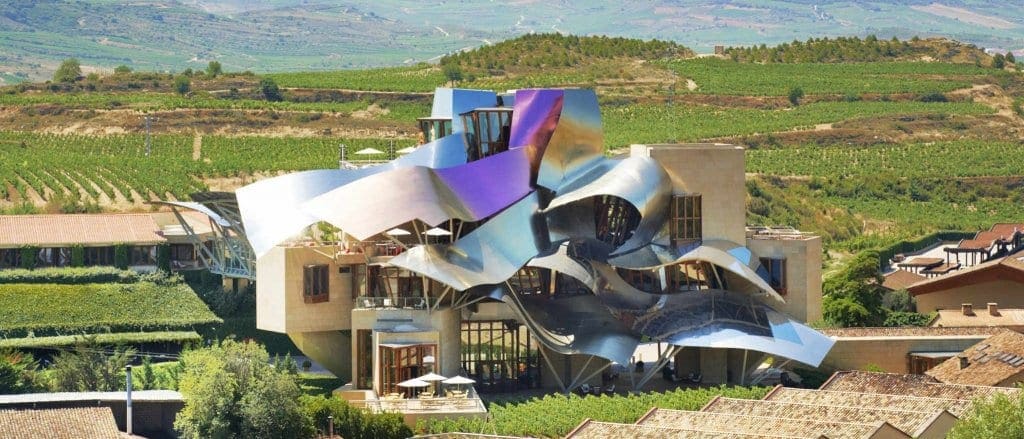 address: 1 Calle Torrea, Elciego, La Rioja, Spain
website: www.hotel-marquesderiscal.com
Rioja's Marques de Riscal redefined the concept of a luxury hotel in rural Spain, offering a very contemporary and immersive experience at the heart of the gorgeous Riojan countryside. Opened by one of the regions' oldest Bodegas (winery), the hotel has been welcoming visitors since 2006 and has caused more than a little controversy in the sleepy village of Elciego. Its avant-garde design was masterminded by legendary architect Frank Gehry, celebrated for creating the Guggenheim museum in Bilbao. His vision was of bold contrasts: the hotel's asymmetrical curves and titanium roof provide a fascinating juxtaposition to the winery's historical cellars, and indeed the ancient streets of Elciego itself. Outside the hotel's walls, you're ripe for exploring the Rioja Alavesa sub-region, home of such famous names as Luis Canas and Bodegas Ostatu. Inside, the visitor is mercilessly cocooned in absolute luxury – 43 top-notch rooms and suites are complemented by a state-of-the-art spa, a glorious rooftop terrace, wine library – with over 1000 different volumes – and special access to the Marques de Riscal cellars. The real highlight is surely Francis Paniego's Michelin-starred restaurant, the finest destination in Rioja to experience contemporary, local cuisine. Paired with an amazing selection of Marques de Riscal wines (the winery has kept a few bottles of every vintage back since its inception in the 1860s), Paniego's cooking is simply breathtaking in its intricacy and creativity. In fact, the only problem with this hotel is that guests never want to leave!
Enjoy a stay in this hotel on a Wine Tour of La Rioja
Abadia Retuerta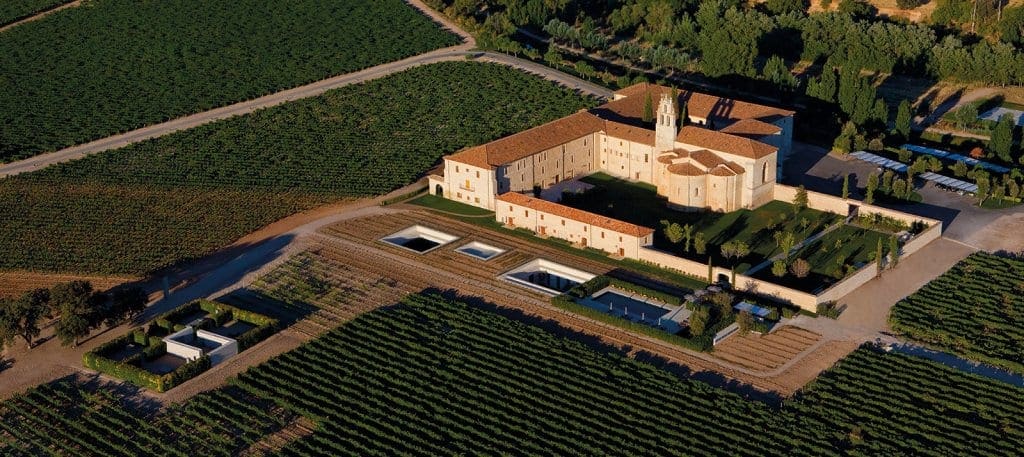 address: Le Domaine, 47340, Sardon de Duero, Ribera Del Duero, Spain
website: www.ledomaine.es
Just as Marques de Riscal reinvented the concept of visiting a wine hotel in Rioja, so Abadia Retuerta has led the way in revolutionizing the tourism experience in Ribera Del Duero. The hotel's setting is worth the price of a room alone; guests stay in an ancient abbey founded in 1146 by an order of monks from France, which is today one of the most important Romanesque buildings in Ribera Del Duero. It was opened as a luxury hotel in 2012, totally restored by Swiss-Italian architect Marco Serra. From the outset, the hotel has made a name for itself by offering exceptional service – each bedroom comes equipped with a multilingual butler, who will do everything to make your experience as memorable as possible. 26 rooms and suites have been lavishly restored and updated, with top quality fabrics, iPod docks, and super-modern and spacious bathrooms. A luxury spa was opened in 2015; also, guests can enjoy a fascinating tour of the surrounding vineyards, followed by an extensive tasting of Abadia Retuerta's old vintages. Indeed, the hotel is ideally situated for exploring the Ribera Del Duero region, famous for its powerful, structured reds produced from the Tempranillo grape, or as the locals call it, Tinto Del Pais.
The historic city of Valladolid is also only 25 minutes away. Still, we'd advise visitors to stay put and experience the cuisine of head chef Pablo Montero, who oversees the dramatic Refectorio restaurant, situated in the abbey's refectory. Awarded 1 Michelin star for his efforts, his cooking is bold, contemporary, and downright delicious – the roast suckling pig a major highlight. Accompanying your gastronomic adventure is both a large selection of the estates' wines and top choices from across the region, including old vintages of Vega Sicilia. There is also the Vinoteca restaurant, for those who want a more informal, tapas-style dining experience.
Enjoy a stay in this hotel on a Wine Tour of Ribera Del Duero
Best wine luxury hotels in Portugal
The Yeatman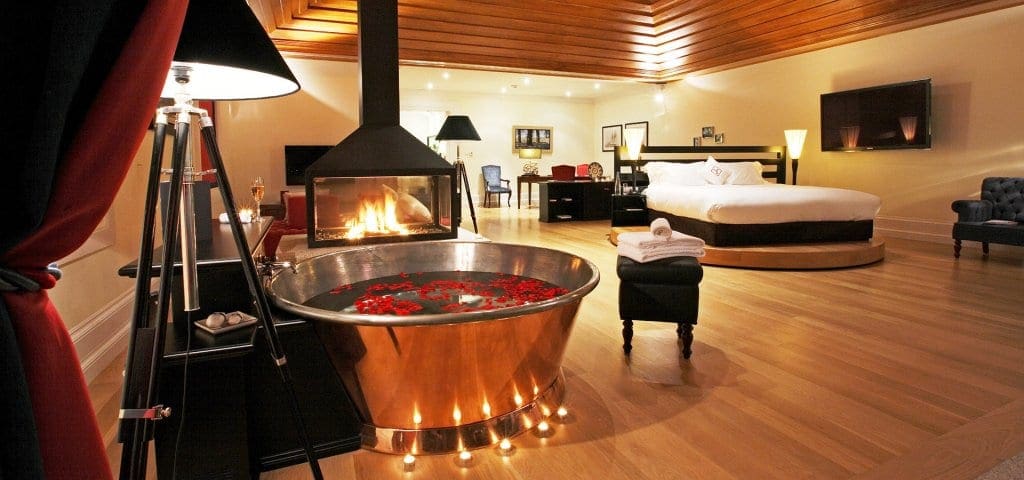 address: Rua do Choupelo (Sta. Marinha), Vila Nova de Gaia 4400-088, Oporto, Portugal
website: www.the-yeatman-hotel.com
Why can't all wine hotels be like this? Located on the banks of the Douro in Oporto's historic Vila Nova de Gaia, this stunning hotel offers superlative accommodation, amenities, and cuisine in the most luxurious of surroundings. Opened in 2010, the Yeatman has become Portugal's most iconic 5-star hotel, the perfect destination for wine lovers to explore Vila Nova de Gaia's port cellars and the majestic estates of the Douro valley. The hotel is modern in design, with 6 stories facing toward Oporto's old town and the Douro, meaning that no guest is without a spectacular view! Each of the 82 bedroom and suites is individually furnished according to a wine theme and designed to an unparalleled standard; insanely comfortable beds, Portuguese tiles, indoor fires, and, in the case of the top suites, copper baths that demand a leisurely soak while sipping a glass of top port wine. The bar area is a similar haven of lavish design and open 24/7. A Decanter shaped pool and pampering spa await the weary. Still, we're more excited about the Michelin-starred creations of chef Chef Ricardo Costa, a man who has helped raise Oporto's gastronomy credentials to new levels. His stunning creations are accompanied by an incredible selection of wines and ports – over 1000 different labels organized not by region but by style, such as "groundbreakers" or "iconic wines." Service through-out is professional, discreet, and extremely courteous.
Convento Espinheiro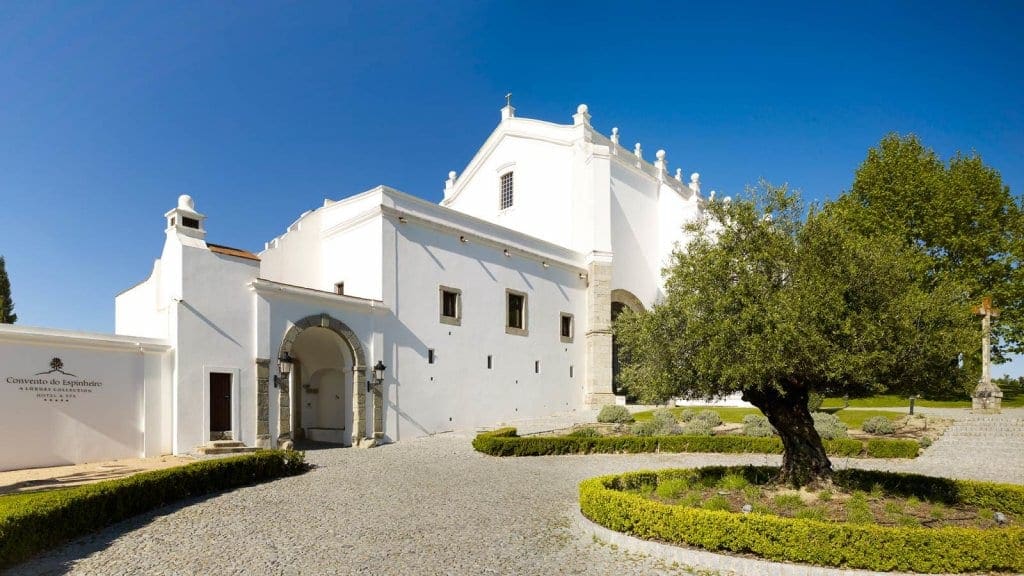 address: Evora, Alentejo Portugal
website: www.conventodoespinheiro.com
As the name suggests, this hotel was a former religious convent – built in the 15th century – that has been transformed into one of Portugal's leading premium hotels, with all the amenities you could ask for. It attracts a discerning clientele who wish to experience classical, old-school luxury updated for the 21st century. It is situated in Evora, undoubtedly southern Portugal's most charming large town and just over an hour away from Lisbon by car. Evora has been a World Heritage Site since 1986 and continues to draw both architecture nuts and lovers of fine cuisine and wine, which the Alentejo region is justly famous for. A total of 92 rooms, including 6 suites, await you, some of which are decidedly classical in décor while others have been updated with clean, modern lines and contemporary furniture.
Enjoy a stay in this hotel on a Wine Tour of Portugal
In keeping with the general trend of luxury today, service is engaging and friendly rather than stuffy, and the list of facilities impressive: outdoor pool, luxury spa, and 5 distinct bars and restaurants. Indeed, food is yet another highlight at Espinheiro, locally sourced and impeccably presented, particularly at our favorite restaurant, Divinus. You'll dine in an ancient wine cellar, sampling local delicacies paired with a formidable array of both local and international wines – Paradise indeed!
Also, be sure to make time to explore Alentejo before you leave, Portugal's most dynamic wine region. Once considered a poor and hopeless rural backwater, it is now full of great producers who generally grow international varieties to make fruit-driven, delicious wines. Cortes de Cima and Esporao are two must-visit properties.
Best wine luxury hotels in France
Les Crayères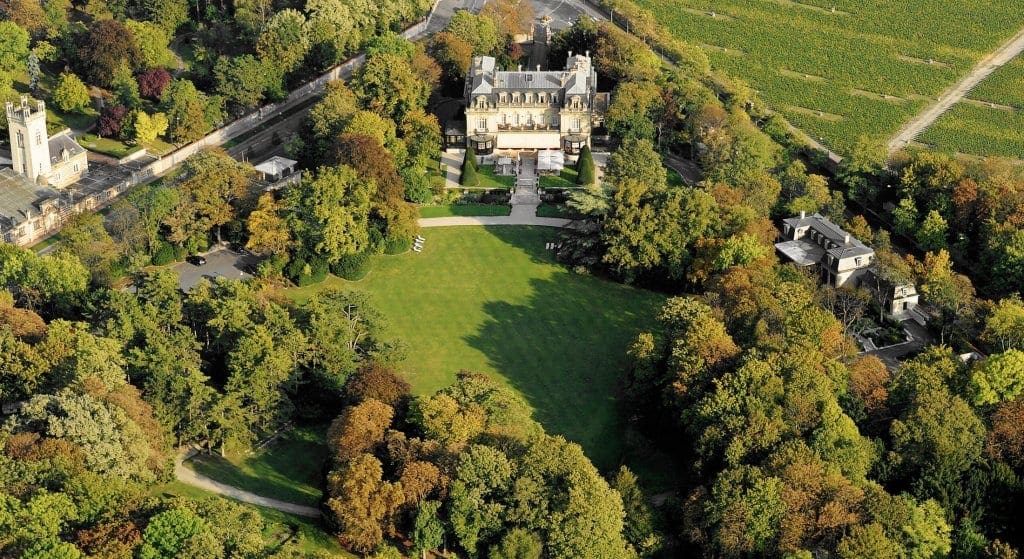 address: 64 Boulevard Henry Vasnier, 51100 Reims, France
website: www.lescrayeres.com
Les Crayeres prides itself on the highest service standards — something that is immediately evident on entering this grand and palatial Chateau hotel. Warmly welcomed by a team of professional staff bar none, guests are made to feel right at home at Les Crayeres, and not a hint of pretension or snobbery is present. The Chateau was built in 1901 and spans seven hectares that contain a wide variety of trees and wildflowers, perfect for a pre-dinner stroll. In line with its personal and boutique approach, only 20 immaculately positioned bedrooms are available, bursting with antique furniture and modern amenities and bathrooms, lending the Chateau both a classical and contemporary feel. But unlike some other modern wine hotels, Les Crayers does not boast an award-winning spa. Instead, it offers exquisite cuisine at both the 2 Michelin-starred Le Parc and the more informal Le Jardin Brasserie. Le Parc is overseen by maestro chef Philipe Mille, a master of turning select ingredients into magical creations – witness his black cod with a white truffle sauce or the Wagyu beef served with beetroot and cabbage. But come on, what you really came here for is Champagne, and Le Parc does not disappoint. Many hundreds of labels await, including rare old vintages of Dom Perignon, Krug, and Cristal. For lovers of superlative bubbly, there really is no finer location in France.
Enjoy a stay in this hotel during your next Champagne Tour.
Cordeillan Bages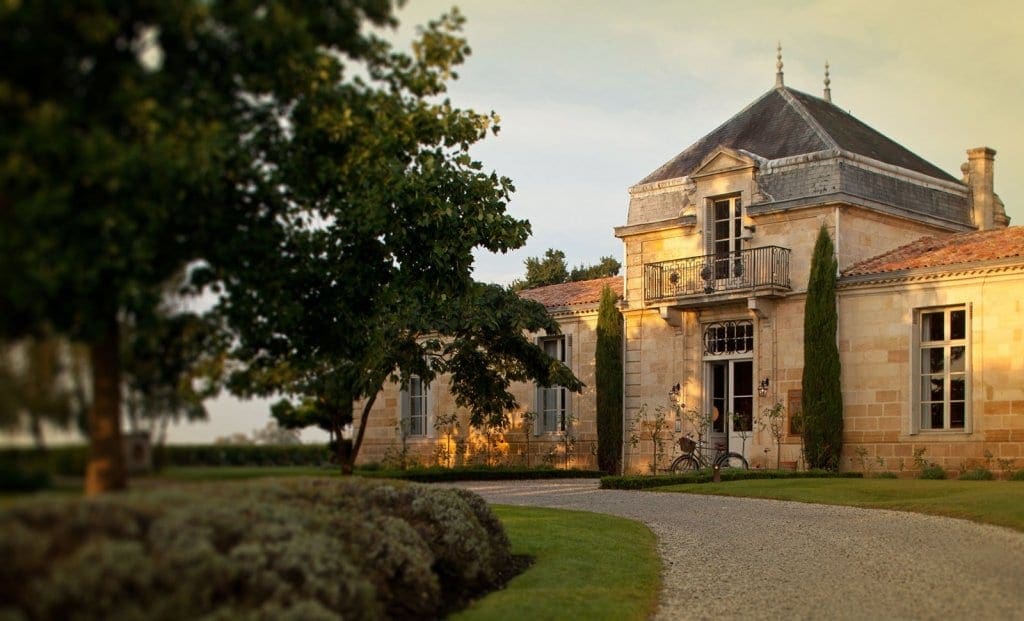 address: Route des Châteaux, 33250 Pauillac, France
website: www.jmcazes.com/en/chateau-cordeillan-bages
Bordeaux is full of great hotels, but we can assure you that Cordeillan Bages is a serious cut above the rest. A sophisticated, elegant country hotel that boasts the only 2 Michelin-starred restaurants in the Medoc continues to draw discerning visitors searching for great food and even better wine. The building is a 17th-century charter-house that has been lovingly and tastefully transformed into a boutique hotel by Jean-Michel Cazes, Chateau Lynch Bages' indefatigable owner in Pauillac. Cazes is as much an art lover as a lover of fine Bordeaux. So the hotel's public rooms also function as an exhibition space for contemporary artists, including Pierre Alechinsky and Alessandro Busci. The bright and elegant communal spaces complement 28 spacious, high-spec, and airy rooms, some of which face onto the delightful courtyard, which houses a patio – take breakfast alfresco in the summer – and a pool.
Relaxation is the name of the game at Cordeillan Bages; chill on the terrace with a glass of wine in tow or make use of the superb outdoor swimming pool, working up an appetite for dinner. And what a treat you have in-store, for head chef Jean-Luc Rocha is one of France's greats. He insists on only using locally sourced ingredients to craft a menu that changes according to the flavors of the month – expect bold flavors, imaginative creations, and an evening of exciting theatre. All this pleasure is accompanied by an extensive list of both local wines and vintages from across Bordeaux; you must make time to visit other Chateau in Pauillac during your stay, as some of the most famous names in the region are on your doorstep; including Lafite, Latour and Chateau Mouton-Rothschild.
Enjoy a stay in this hotel on a Wine Tour of Bordeaux
Chateau Bagnols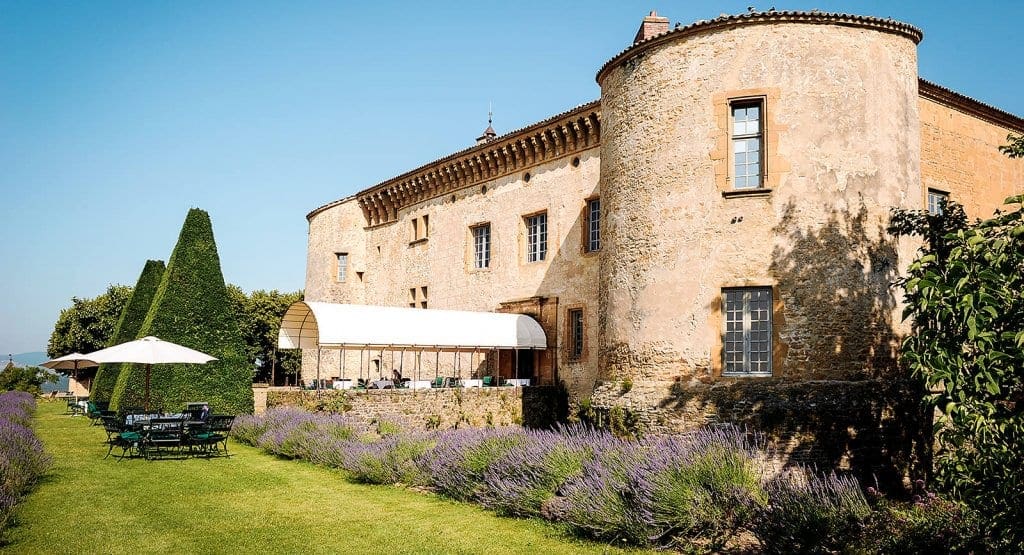 address: 69620 Bagnols, Beaujolais, France
website: www.chateaudebagnols.com
Chateau Bagnols is light years ahead of other hotels in Beaujolais, with its ideal situation close to Lyon and stunning grounds. Indeed, new visitors are usually quite enchanted with the setting; a moat, drawbridge, and towers made of lightly colored stone lends the Chateau a distinctly fairytale atmosphere. For centuries, the Chateau has existed lovingly restored by Lady Hamlyn, who fell in love with its beauty and proximity to the Beaujolais vineyards. 27 rooms, including 6 suites, are superbly appointed and endowed with high quality, traditional furnishings, and insanely comfortable King-size beds. A well-equipped spa awaits for those who crave relaxation, with an indoor heated pool, a hamman, and four treatment rooms. There is also an indoor pool for when the weather becomes more clement. Those, however, with more of a desire to explore the region will also not leave disappointed; Chateau Bagnols is right in the heart of Beaujolais wine country, and the hotel will gladly organize tastings both within the property and at neighboring estates. And all that wine tasting is bound to work up an appetite; luckily, head chef Jean Alexandre Ouaratta is on hand to craft a mouthwatering selection of local dishes. For example, roast duck liver with wild Madagascar pepper, Breton blue lobster, roast saddle of lamb, and citrus and passion fruit cheesecake are just some of the gastronomic delights that await you at Chateau Bagnols. All paired with, naturally, a wide selection of top Beaujolais Cru wines, we'd usually go for a Fleurie.
Enjoy a stay in this hotel on a Food & Wine Tour of Lyon
Best wine luxury hotels in Italy
L'Andana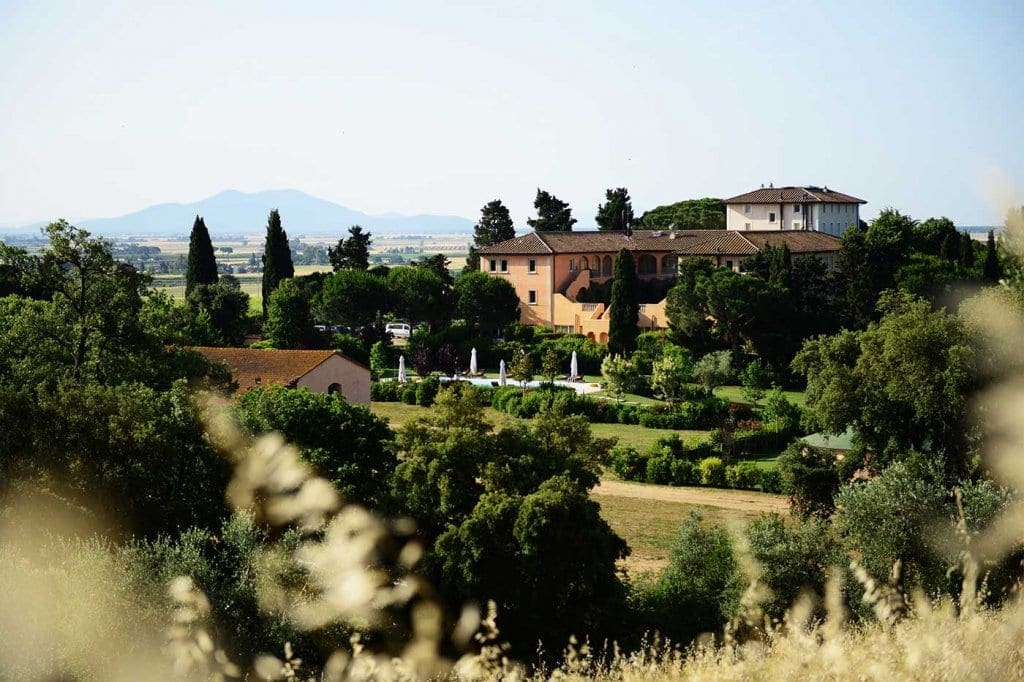 address: Localita' Badiola, Castiglione Della Pescaia, GR 58043, Tuscany, Italy
website: www.andana.it
Tuscany is undoubtedly one of the most captivating and beautiful destinations on earth. The landscape, filled with cypresses and olive trees, shamelessly picturesque villages, and hillside vineyards, never fails to take first-time visitors' breath away. And there is no better place to experience Tuscany in all its splendor than L'Andana, the brainchild of legendary chef Alain Ducasse. He worked with the Moretti family to open a luxury rural hideaway bar none in 2004. It is now firmly established as one of Italy's leading luxury country hotels, perfectly secluded in the gorgeous Maremma countryside. The expansive villa contains 33 bedrooms and suites that are superbly appointed with views of the surrounding vineyards, a gorgeous garden terrace, and a bar area overlooking the central swimming pool, and those looking to relax will want to take advantage of the Wellness Spa Centre. Gourmets are also extremely well catered for at L'Andana. Ducasse's consults for the La Villa restaurant, a temple to classical Tuscan cuisine, there is also a more informal Trattoria Toscana restaurant open during the summer months. The wine cellar is well stocked with fine wines from Italy and beyond and will satisfy even the most demanding oenophiles.
Speaking of wine, your viticultural exploration at L' Andana requires only a few steps, as the property is conveniently attached to the firm's winery, Tenuta La Badiola. They will happily organize vineyard tours, tastings, and, of course, visits to other leading properties in the region. The only problem will be where to start!
Enjoy a stay in this hotel on a Wine Tour of Tuscany
Relais San Maurizio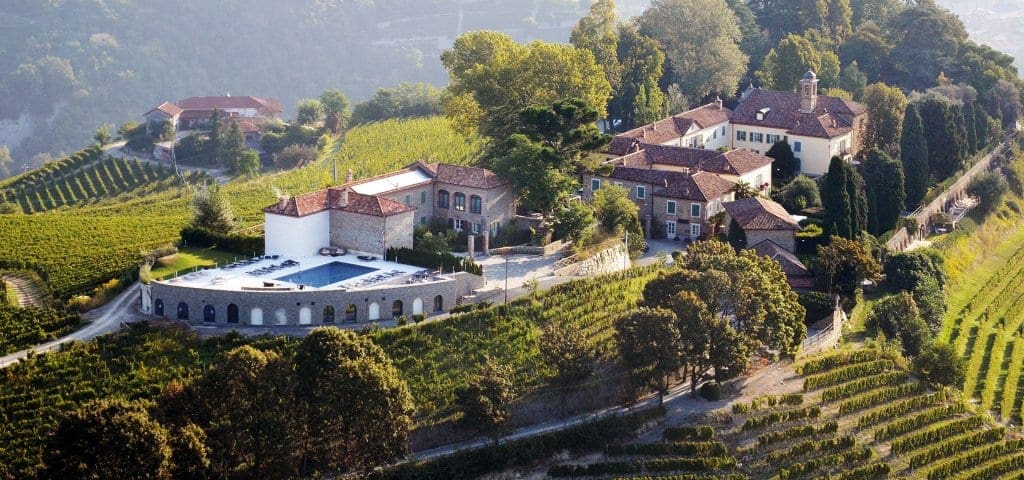 address: Località San Maurizio, 39, 12058, Santo Stefano Belbo, Cuneo (CN) – Italy
website: www.relaissanmaurizio.it
Monks inhabited San Maurizio until 1862, when Count Luigi Beccaria purchased the estate as a private home. Thereafter it exchanged hands several times until the current owner decided to transform the property into a 5-star hotel in 2007 – opening in 2002. Today, San Maurizio is undoubtedly the region's most luxurious destination, complete with an outdoor/indoor heated pool, the Thalassotherapy spa, which offers specialist treatments in a former salt cave, and acres and acres of gorgeous parkland. Nestled deep in the Langhe vineyards, each of the hotel's suites – 36 rooms in total – offer superlative views across the landscape, a land as famous for its white truffles as for its Nebbiolo based wines. Gourmets, too, are going to love the Michelin-starred Guido da Costigliole, situated right in the middle of the hotel's vaulted wine cellars. Head chef Andrea Alciati likes to surprise and astound, so expect modern interpretations of traditional Piedmont dishes – the truffle risotto being an obvious highlight – all matched with an incredible range of both local vintages and wines from across Italy, and indeed the world. Try the Gaja Barbaresco for an unforgettable treat.
Enjoy a stay in this hotel on a Wine Tour of Piedmont
L'Albereta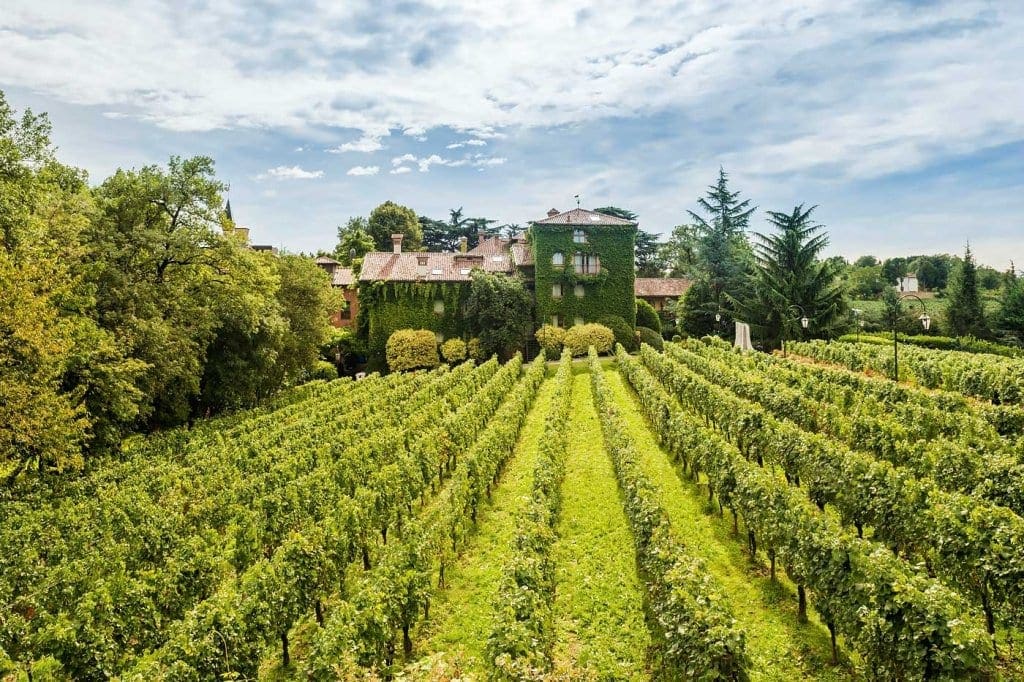 address: Via Vittorio Emanuele, n° 23 – 25030 Erbusco (Brescia) – Italy
website: www.albereta.it/en/franciacorta-relais.htm
With its enviable position overlooking Lake Iseo, an award-winning spa and top-notch restaurant, Leonfelice, L'Albereta is probably Franciacorta's finest hotel. The legendary Bella Vista family owns it; Patriarch Vittorio Moretti is Franciacorta's most dynamic and visionary winemaker, his top Italian fizz Cuvee Vittorio Moretti rightly considered one of the world's best sparkling wines. The hotel is based in a stunning, 19th-century Neo-Renaissance country house, which was once the home of a famous lawyer, Giovanni Cavalleri. After it passed to Cavalleri's niece, she encountered financial difficulties and was forced to sell to its current owner, the Moretti family, who opened the hotel in 1993 with just 9 rooms. Today it boasts 57 deluxe rooms, including the famous Suite Bellavista, a gloriously opulent complex that functions more like a family home than a hotel room. And then there is the spa Henri Chenot, surely one of Italy's finest with its multiple treatment rooms, hydromassage heated pool, sauna, Turkish bath, and a state-of-the-art gymnasium. For all this decadence, you can credit Italian architect Ettore Mocchetti.
Gastronomic duties are handled by Fabio Abbattista, who proudly oversees the top restaurant, Leonfelice, which is complemented by the more informal Vistalago Bistro. Abbattista is no fan of molecular gastronomy; instead, he serves mouthwatering, traditional northern-Italian dishes in portions that are the antithesis to irritating, undernourished nouvelle cuisine. The cooking is all heart and soul- divine, yet intensely nourishing and homely, utilizing fresh produce from his extensive vegetable/herb garden and working with local suppliers. However, the wine list is suitably grand and extensive, with plenty of still red and white wines in addition to the local fizz.
FAQ
Which European country has the best wine?
France is home to some of the best-known wine regions in the world such as the Rhône Valley, Bordeaux, the Loire Valley and Champagne.
What is the biggest winery in Europe?
Plantaze is the largest vineyard in Europe – but Montenegro, as a whole, is a true wine lover's haven. The country of Montenegro is absolutely beautiful and while its landscape is enough to draw many visitors each year, it's also home to the largest vineyard in all of Europe.